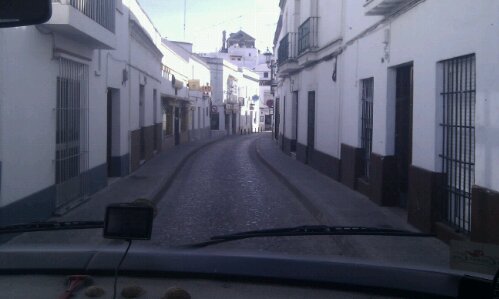 We're here – N36.31253 W6.11313
Weather – sunny with wispy clouds
We went out for a meal with Jacqui and Marc, but we were all flagging from our previous nights antics in Seville. We found quite a few video clips on the phone which brought back a few memories of the night which is a bit blank for three of the four of us. We wandered around the streets near the marina in search of tapas, but we must have been too early (it was only 9pm) as pickings were slim, so we ended up in an Italian restaurant. We were the only ones in there until around 10.30 when a couple more tables filled up.
We wearily made our way back to the vans around 11pm (an hour too early to celebrate Jacqui's birthday) and things were livening up at the marina, it carried on til gone 2am – while we were all tucked up in bed. I don't think I'll ever get used to Spanish timings.
This morning wished Jacqui a happy birthday and then bid farewell to them as they are heading east and we're going south. After a quick shop at Aldi (thought we'd have a change from Lidl) and a disappointing bikini hunt in Decathlon which had me reaching for a chocolate bar for comfort (seriously if I can't fit in their xl size, who on earth is in their xxs?) we were off – destination Arcos de la Frontera.
Sat nav took us to the co-ordinates we had for a parking place only to find, after braving some narrow streets, that it wasn't there. In fact if we had turned where she said it was we'd have gone off a cliff face!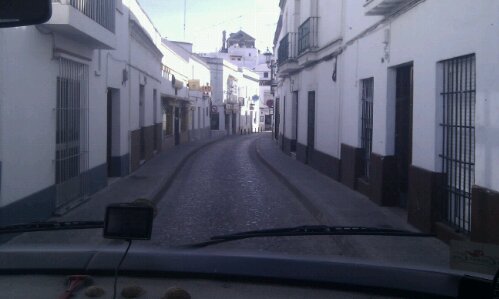 So we decided to get out of the old narrow streeted town and find somewhere to stop, we headed for Lidl only to find car park barriers, then to the market place but the road was closed. Finally we tried another route but it was one steep narrow road too far, we were off. So whoever wrote our rough guide and pondered why more people don't visit the town, I can give you a few suggestions!
After a quick stop for fuel (yay Spain! we're back down to €1.36 a litre) we set off for a parking spot in Cadiz. Soon we realised we were heading back towards Seville, so sensing something not quite right we pulled in to check. Ah, it was in the Province of Cadiz, but about 50km in the wrong direction. Eventually after another pull in and think again (and a discussion with a bewildered security guard who spoke French) we decided to give up trying to find a free place to park and set off for a campsite.
We bought a lorry load of camping cheques before we left the UK to get cheaper off-season camping (you pay for them then use them to pay for sites). We still can't find anywhere to use the stupid things. The nearest one was miles away – but at least it wasn't closed like the others we've tried! So we christened our 2012 ACSI card, which gets us a cheap rate – often cheaper than a camping cheque – at so many more places. Lesson learned if you're thinking of taking a trip, ACSI card seems (to us) to be the best option. The campsite we're in is about 8km from Conil de la Frontera, but in the middle of nowhere. Still we have electricity, wifi and some good looking showers – with taps, not buttons, and as we're saving around €6 a night with our discount card, we're stopping for two!
Seriously around this area there are no aires, and it seems that the police are keen to move you on, so we're going to have to blow the budget for a bit and campsite it up. We're going to stop here and get all of our plans together for Morocco – only little things like where shall we go, which ferry, where to get insurance etc! But a couple of days on the t'interweb and we'll be sorted. Then we'll drive down to Algeciras and buy a ferry ticket (and hopefully a map) then head to Africa! Gulp!
As we spent most of the day driving I had very few photo opportunities, so it's video for you today.
Charlie's trying to break his own record for licking out a pudding pot and a snapshot from our night in Seville!
Ju x