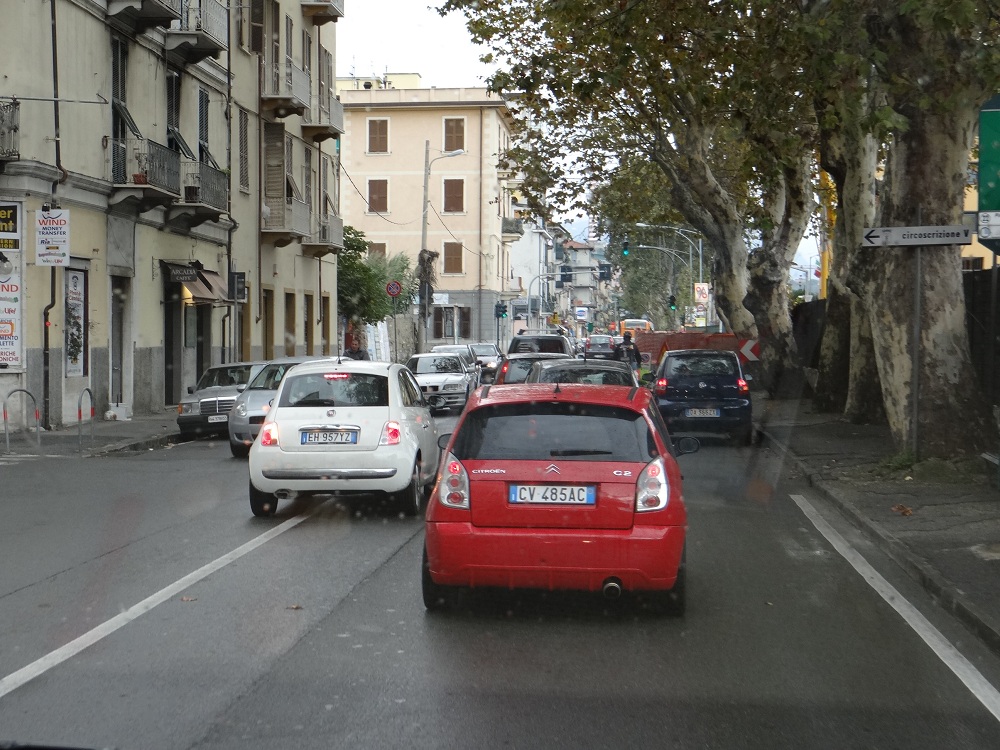 Dave the motorhome is wondering what's going on, squeezed in between two moth-balled vans in an official sosta a short distance from the La Spezia docks (N44.104370 E9.86110). It's a weird place, apparently free of charge and run by a local motorhome association by volunteers. Even at the turn of October, it's full, although the vans have pegs under the wipers and all the blinds down. It seems few of the motorhomes have anyone in them.

I'll cut to the chase, I had low expectations of the Liguria coast, and the past couple of days have proved they were in fact too high. Perhaps I'm being swayed by the continual downpour; La Spezia it turns out sees twice the rain of London? It's not helping, but that's not the cause of the disappointment. This area of Italy, it seems, is a sprinkling of pleasant, historic, rambling places amidst a sea of grime, graffiti, concrete and horn-blaring, triple parked, don't-car-about-anyone-but-myself traffic. Only problem for us is, we've only managed to find ourselves in the sea.
We came out of Genoa yesterday feeling like we'd miraculously emerged unscathed from a full-on spin in a washing machine. The relief at parking up last night washed over us, along with the best part of a box of Lidl red wine. To save our livers from further abuse today, we took the autostrada from Camogli to La Spezia (€9.70 in tolls). I hesitate to call the autostrada a motorway. Despite the obvious engineering masterpiece of it all, as it pokes holes and stands on stilts, through folds of wooded mountain side like a needle through a crinkle-cut crisp, it's an ugly bypass at best. Half the time you're in a tunnel, and when you're not you're in semi-permanent roadworks. Only the familiar yellow lines and warning signs give any indication some work might, at some point, happen on the crumbling patched-up two lane road. Despite passing through miles of 60kph section (yeah, right), we saw all of about 10 workers and zero heavy machinery moving. Someone call the Cone Hotline!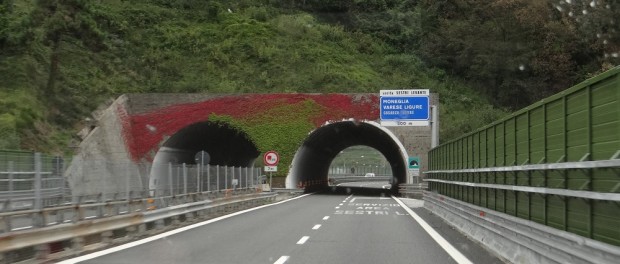 In the short sections of daylight, the rain splats on Dave's roof and I thank my own personal invented deity for making the windscreen wipers work properly. Ju managed to grab a few photos of the villages dropped into the crease of the folds, although the light paints them dimly. Finding a fellow-travellers blog this morning kept us well and truly away from the coast road running past the Cinque Terra, the highlight of this region, as he had to squeeze through one-way tunnels which claimed to be lower and narrower than his van.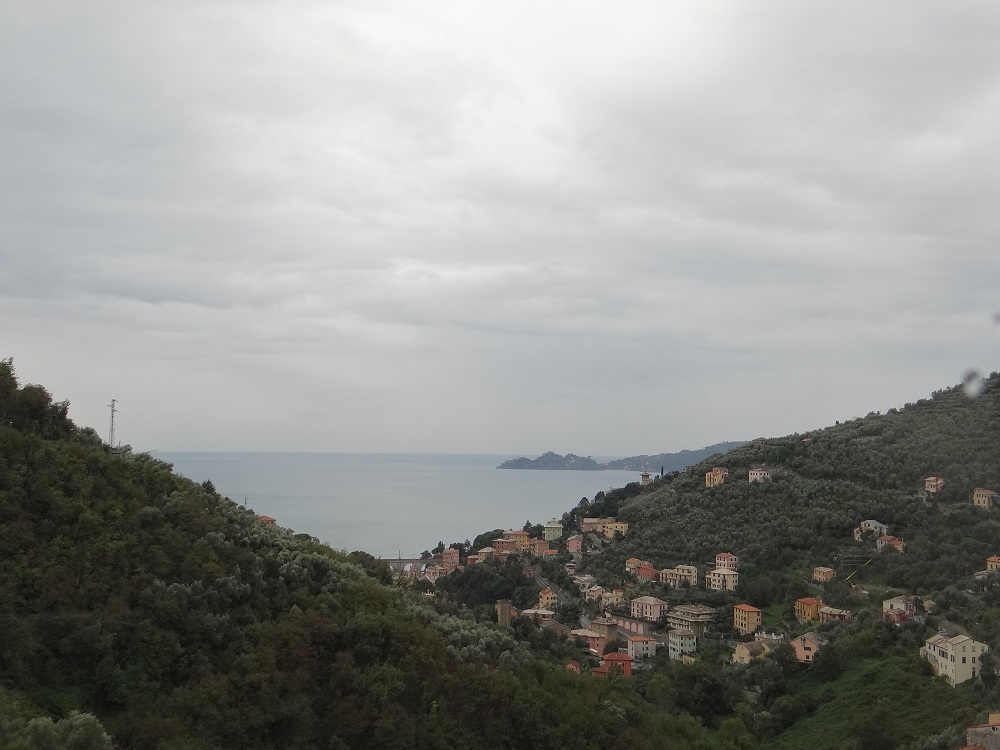 We'd formulated a plan before we left this morning. Cinque Terra (Five Lands) has a fantastic reputation, with small fishing villages built up against the sea and, thankfully, protected against the fate of the surrounding coast under UNESCO. Driving to the villages is possible, but the sostas we can find are all expensive (€18 a night-ish), the roads tight and hilly, and we think we've a better plan. From La Spezia we can stay for free, and take a train west to the villages. Also, it's lashed it down all day today and walking the route between the villages might not be much fun with hypothermia.
Despite my moaning about the autostrada, it got us here without much stress, although the start of the journey could have gone better. With so little flat land to play with here (none), the entry to the motorway was via a downhill sliproad with all of about 30 metres to join the slow lane, and you couldn't see the traffic on the autostrada until on this short section. The 'Give Way' sign at the bottom gave me a choice: ton it as fast I could so I was keeping up with the expected traffic, or pootle down to the bottom and try and enter the road from a crawl. Opting for Option 1, it almost paid off but for the tanker I had to cut up. Oops. He didn't slow down or move over, but lit up the back of Dave like a summer's day to indicate his malcontent. As soon as he started to overtake us I braked so he could get back in, although there was no other traffic on the road.
I was in the wrong on the above occasion, but I'm already past caring. The way our hosts drive, or at least some of them, is rather poor. The jaw-dropping mismatch of cars to space-for-cars must be partly to blame for the way in which many of them blatantly park up in a stream of traffic, pop their hazards on and amble off to the shops. A chap today who'd driven too far past the red traffic lights chose, rather than being embarrassed to lean on his horn, shout and gesticulate, mirroring the actions of the bus driver who'd had to swerve to avoid him. Outside a Lidl we waited for an hour for the sosta to open, watching as a steady stream of non-disabled and non-parents parked in the disabled and parents places. They just don't seem to care two hoots. It is in a way a liberating feeling. As proved by my point above, if everyone's driving sucks, then my mistakes mean almost nothing here as long as no-one gets hurt. Ju's flinching when cars and mopeds try to, or actually, cut us up. I'm thinking I'm in a big old van, bring it on pal.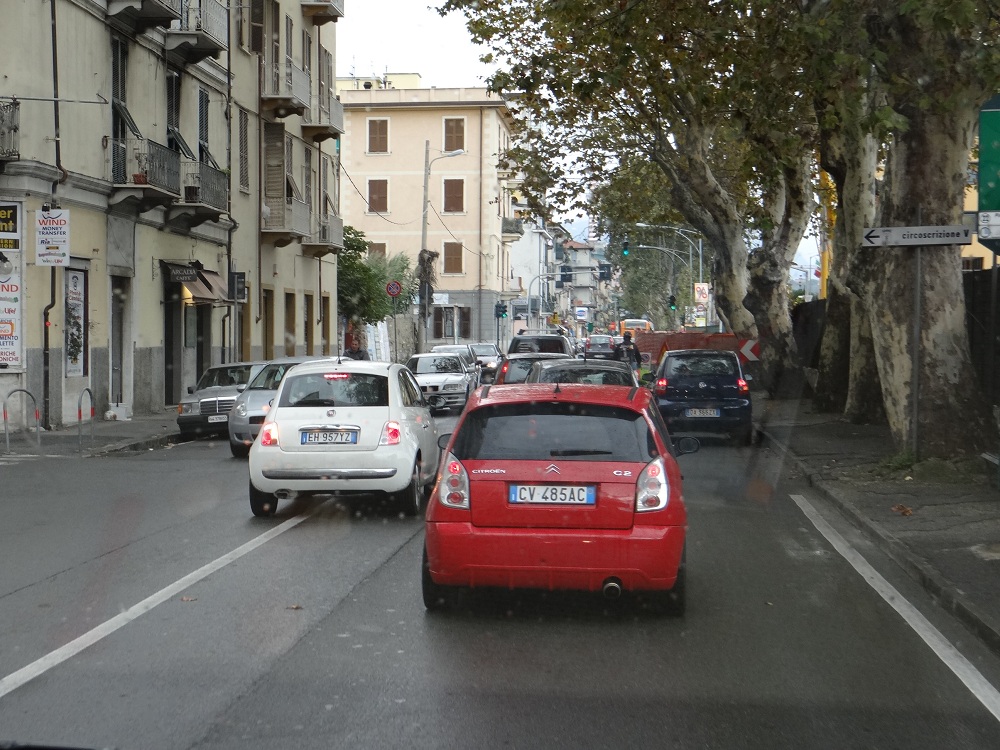 Genoa and La Spezia share the fact they're sprawling industrialist, ancient ports. Their centres are probably pleasant, interesting places. Our experience of them both however is limited to the outskirts and out here they're grubby, grey, unkempt, splattered with billboards, beggars and graffiti. Although tomorrow is All Saints Day and a national holiday in Italy, we're hoping the buses and trains will run, and the downpour will temporarily halt, so we can see this stretch of coast in a new light.
On a plus point, Josef and Petra Wermelinger, who we met on top of a Swiss mountain pass, sent us some photos they took in Geneva in February 2012. The conditions to create this kind of ice are apparently rare, and we found the pictures just incredible.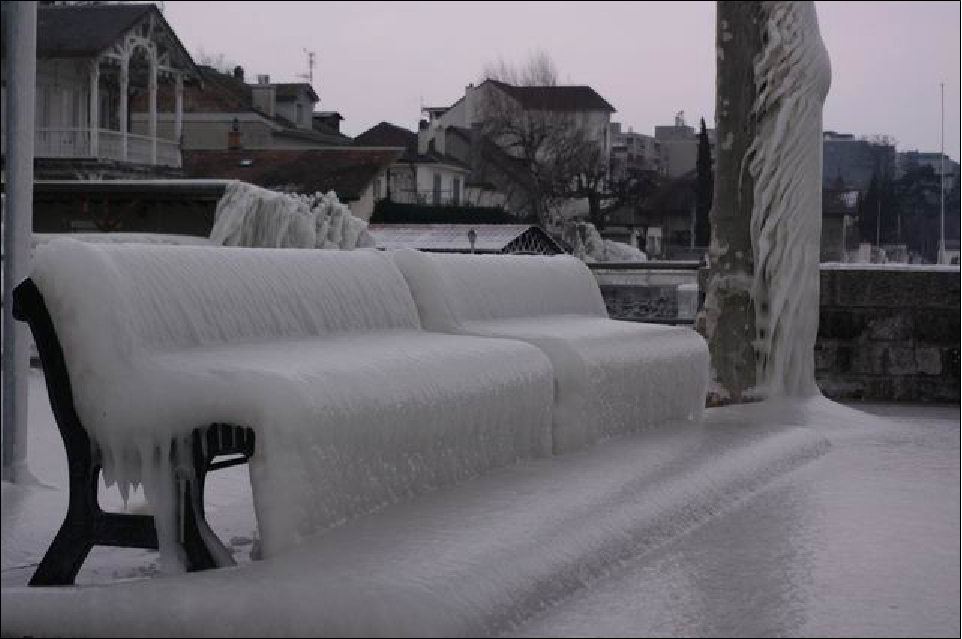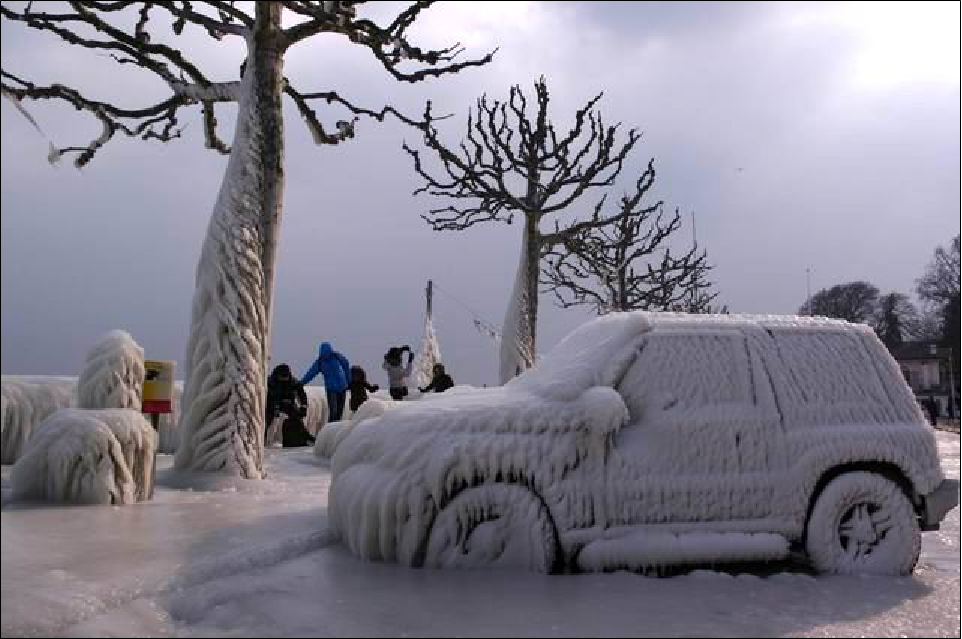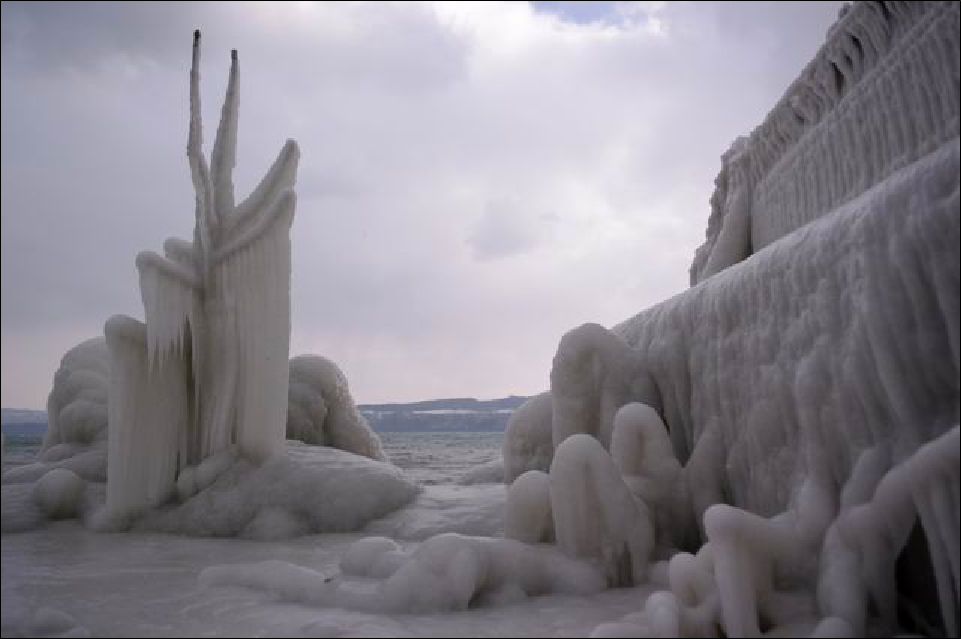 Happy Halloween Folks! Jay