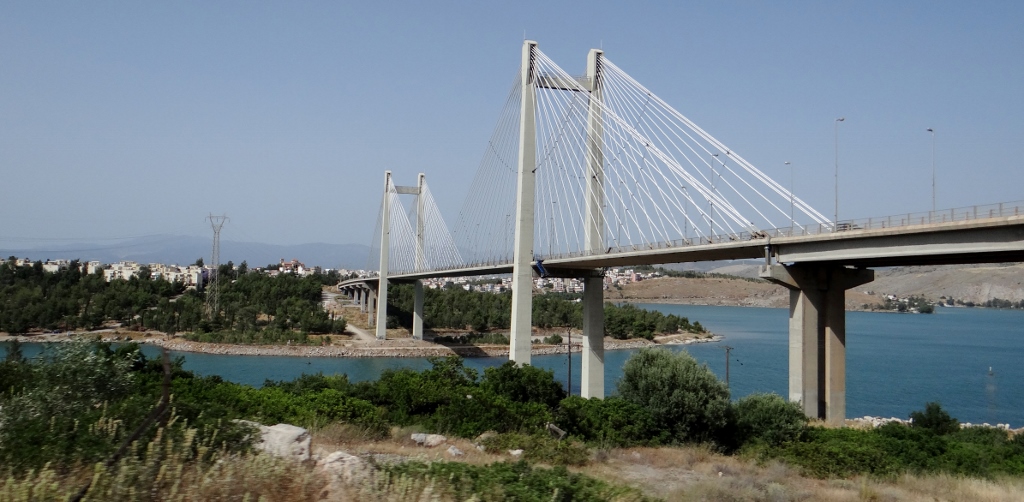 Dave the motorhome is having a well deserved rest by the beach in Eretria (N38.38970 E23.80172). His wheels are no doubt aching like feet in new shoes, not helped by us asking him to drive across a huge bit of Greece to the island of Euboea (or Evvia, or any number of other spellings) which sits just above the mainland, connected by two bridges.
Last night we were shattered from our day of sightseeing, but we managed to drag ourselves up the street to the local tyre fitters who were still open at 8pm! We nipped in and got a price for new tyres for Dave and the staff said if we brought him in at 9am they would get him done in a couple of hours. That, and the fact the weather forecast was predicting over 32ºC today, made our decision; we'd get the tyres and head off, leaving the rest of Athens for another visit. Perhaps going back to back with Delphi was just a bit too much for us, this sightseeing malarkey is tiring you know!
At 3am I was up, the temperature in Dave was too hot to sleep so I lay there for a few hours working out a plan for the morning. Of course as daylight came I nodded off and missed our alarm, so it was 10am by the time we made it to the garage, so they asked us to come back around 1.30pm to collect him. I'd packed two bags of stuff and left them at the campsite, and when Dave was safely in place and the tyres on their way we headed back to the campsite and installed ourselves in the cafe area next to a row of plugs for charging.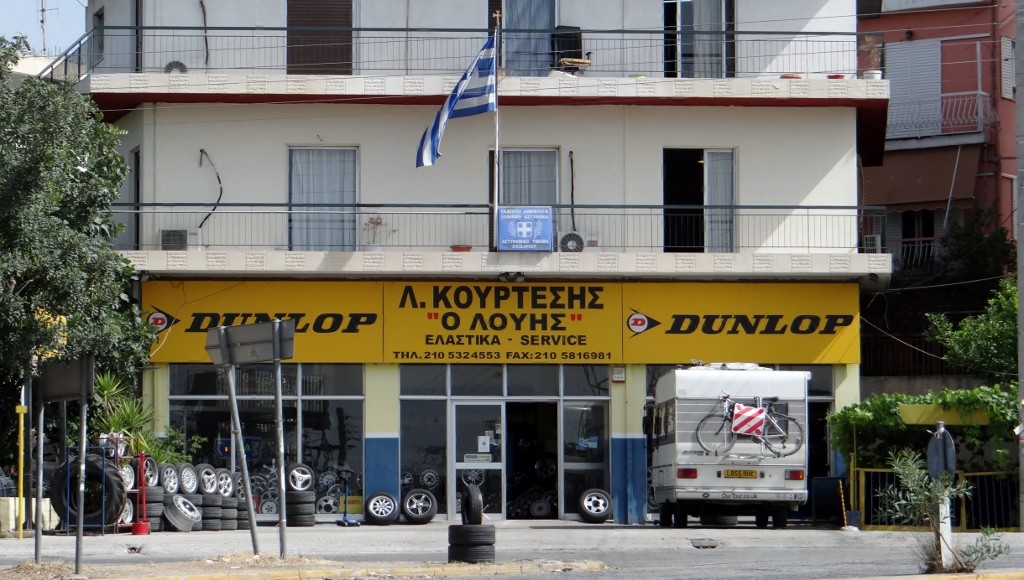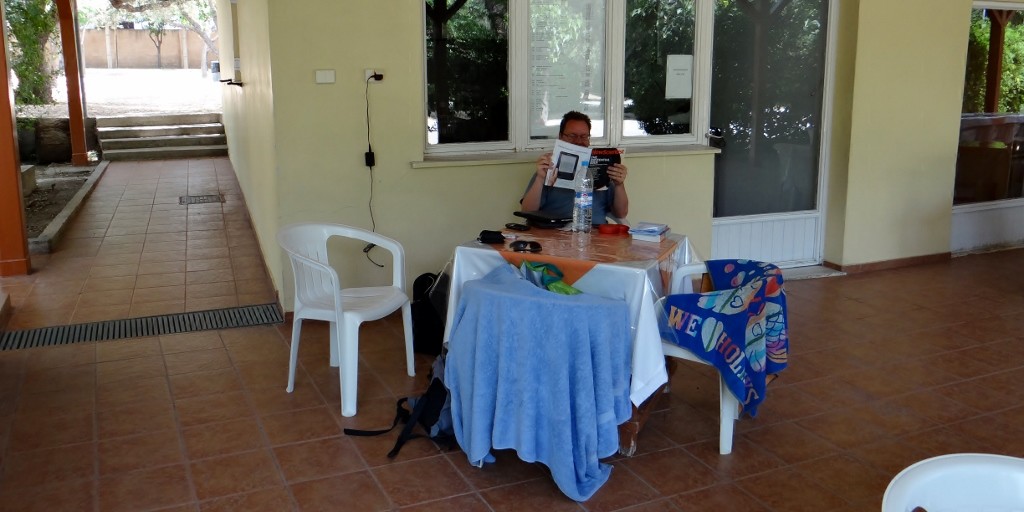 Showers all round and the last minute of wifi squeezed, we headed back to the garage at 1pm. Dave was still in situ, a new pair of Pirelli tyres, freshly delivered, sat next to him. We plonked ourselves down on the sofa surrounded by new and used tyres, and waited. We were provided with cold drinks as we watched the show. Dave was jacked up and down, his tyres removed and the new ones fitted. This all normally takes place out of sight in the UK as you sit in a clean air conditioned waiting room – here we were in amongst the action.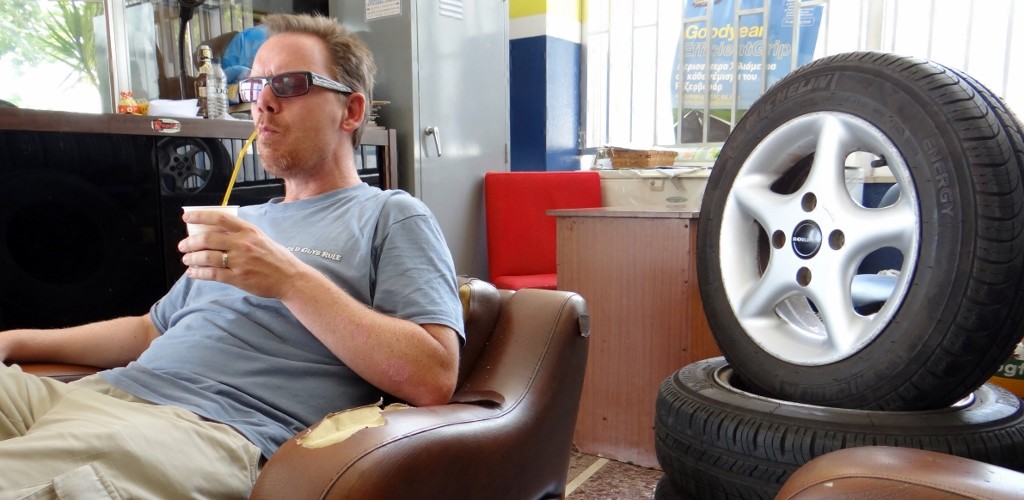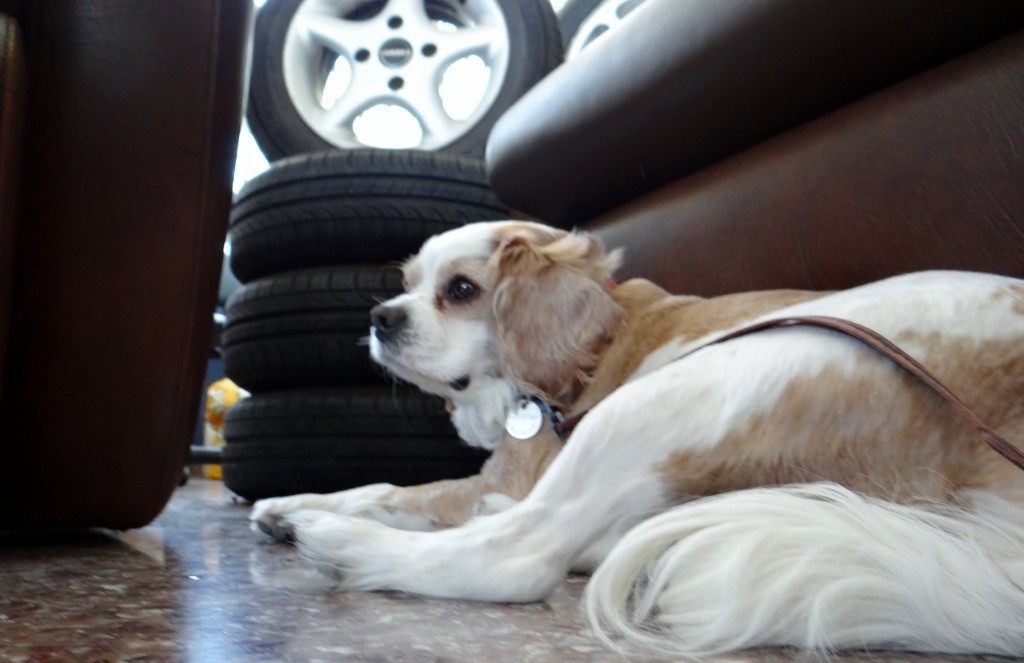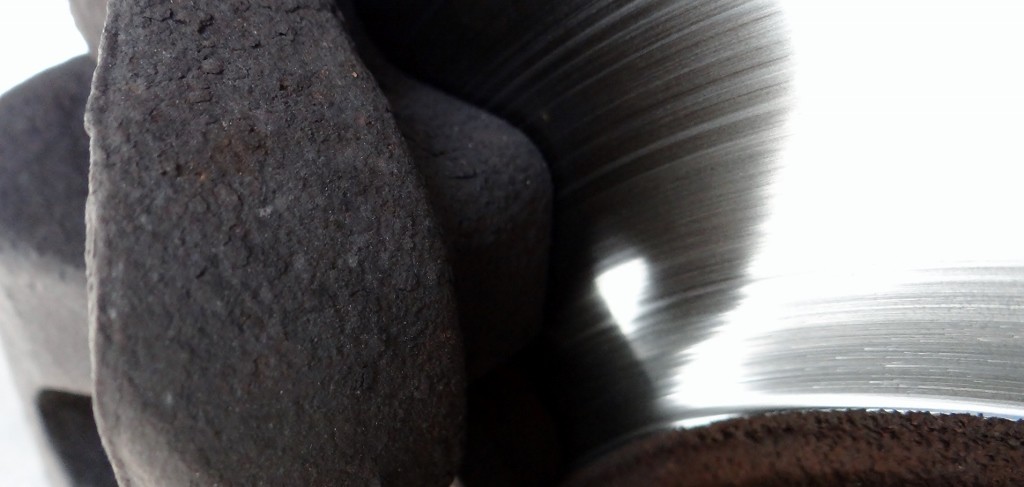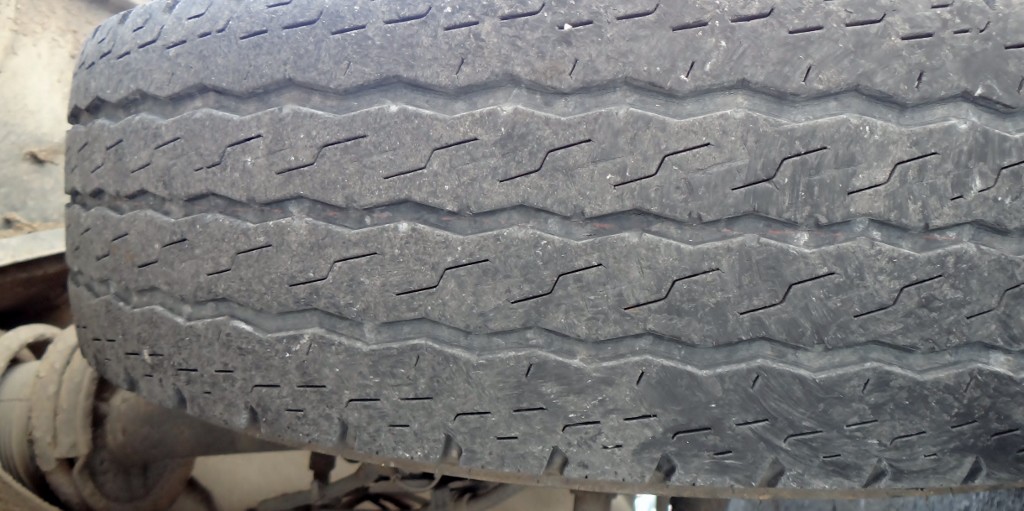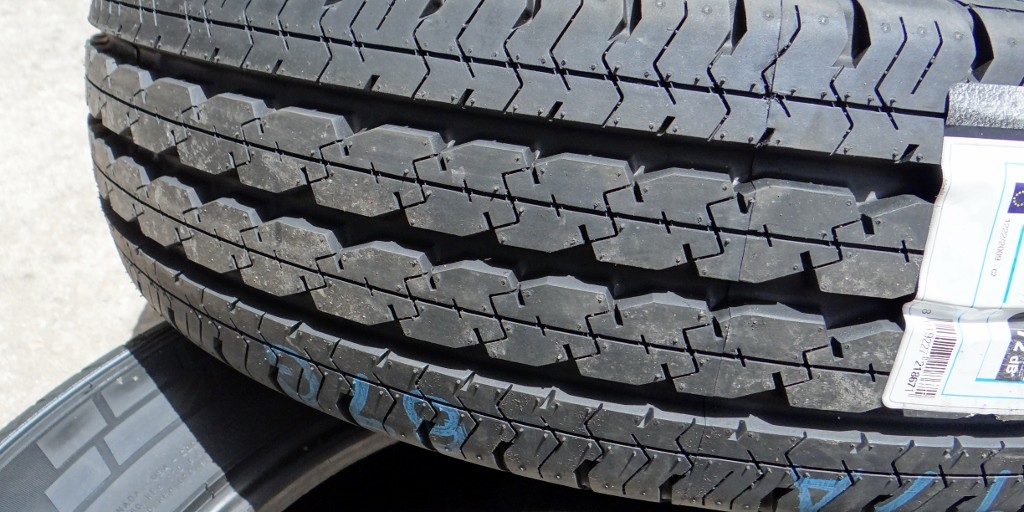 €235 later, we were waved off by the English speaking guy at the tyre place. We headed away from Athens on the occasionally four-laned dual-carriageway until we saw all the road signs turn green. In Greece blue is the colour you want to see on road signs as these roads are free, a little bumpy and pot holed. but free. Green signs mean motorway, which for us means big money as we're a little larger than your average car. In a green sign-induced panic, we left the dual/quad-carriageway road too soon and found ourselves stuck in a grid system of a town with far too many one way roads and 'no left' or 'no right' turn signs. As it was pushing 35ºC in Dave's cab, we pulled over and set up our emergency laptop/smart phone/map nav thing and used that to get us out of there before tempers frayed.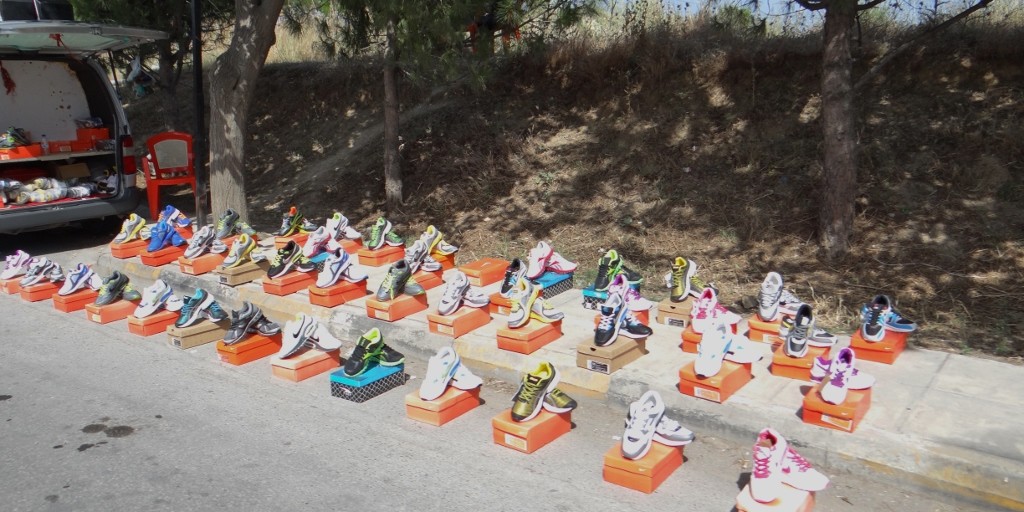 A wiggly road, with a steady stream of huge lorries on it, took us over the mountains and down to the coast on the other side of the peninsular. Here we narrowly missed being lured onto more paying roads and half guessed our way around to the old bridge across to Euboea. It was so much easier when we were going to Athens, it's signposted from hundreds of miles away, Chalkida (the main town on the island) isn't quite so well signposted on the blue roads. We're still not sure if there is a charge to use the new bridge, but the signs were green for it and after being stung for over €13 to cross near Patra, we weren't going to fall for that one again.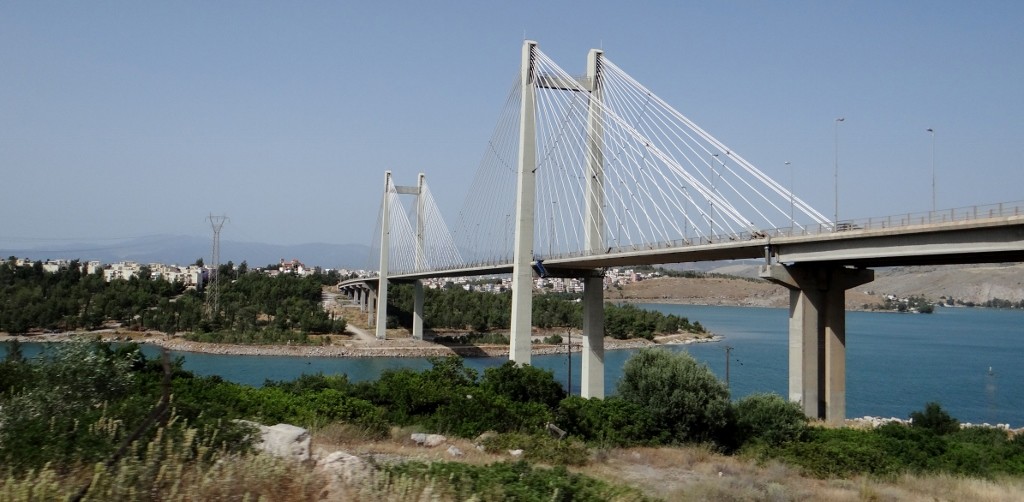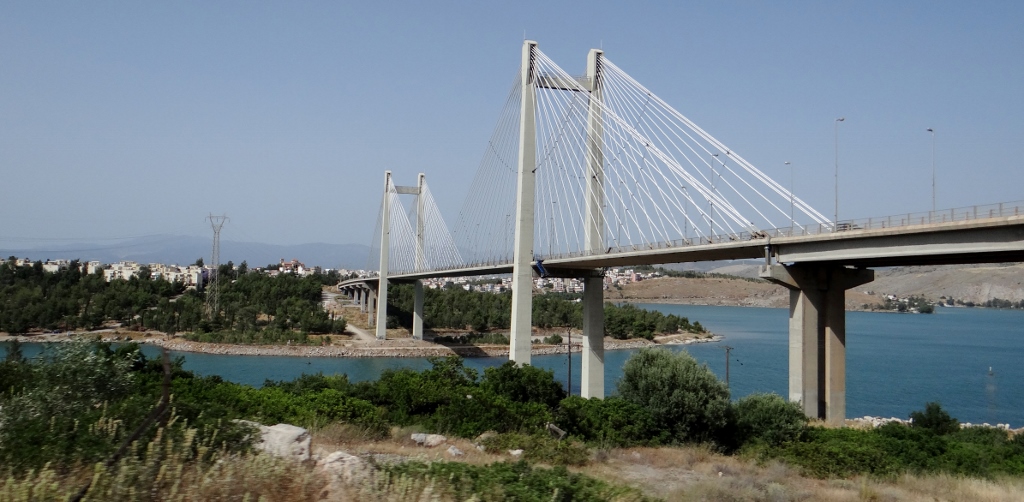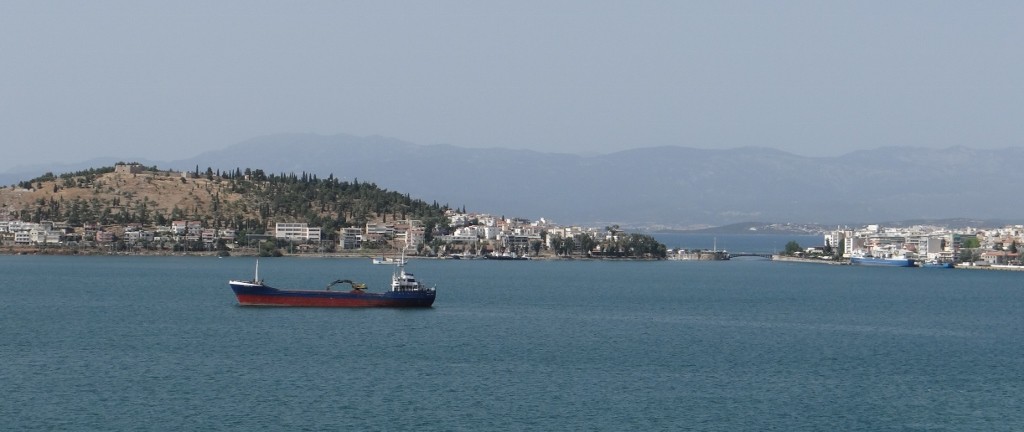 Somehow we made our way onto the right road, from Chalkida we had a choice of N. Euboea or S. Euboea – so really we shouldn't have struggled! Just as the thought our round-about route had by-passed the local Lidl it's big yellow sign shone down on us. Not a moment too soon as we can see the back of some of Dave's cupboards and more importantly; it's British week!! We dived into the air-conditioned loveliness and emerged about an hour later with a bill for over €100 -so this week's budget is blown and it's only Wednesday! However that €100 included some British tastyness – two packs of cheddar cheese, two bottles of blackcurrant cordial (it's not Ribena, but after months of only Orange or Almond as an option it's bliss) and two kilo sized bags of frozen fish and chips. If our freezer were empty they might just squeeze in, but it's already quite full, so one pack was squished into place – the other stacked in the fridge with ice blocks.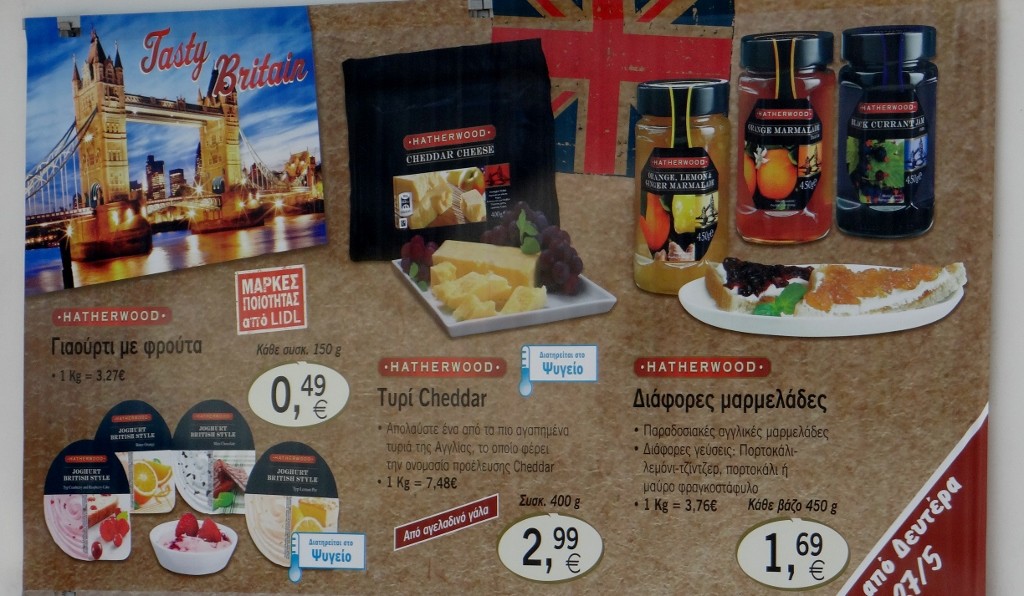 With Dave's cupboards now full again we set off for Eretria and arrived by the beach just before the sun set. Jay set to work on the fish and chips as we'd not had any lunch. They tasted soooo good.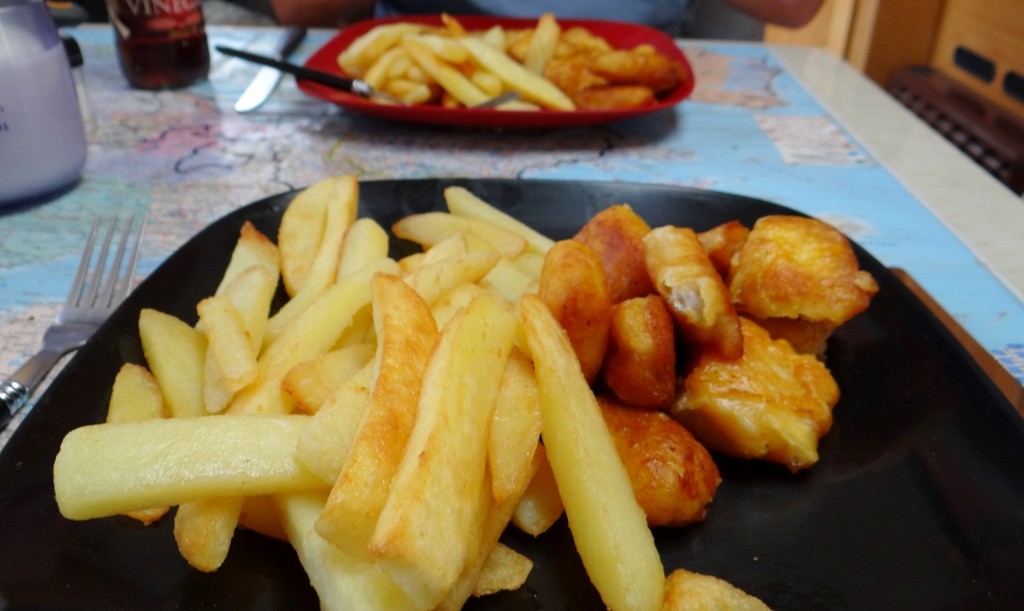 The sun has now set and a slight breeze is slowly cooling Dave down, the forecast is for a few more roasty toasty days so we might hang out here for a bit and have a look around the town. There is a pack of six pooches play fighting on the beach beside us, pampered pooch Charlie is sitting on his bed looking out of the window and huffeling at them to be quiet!

Ju x