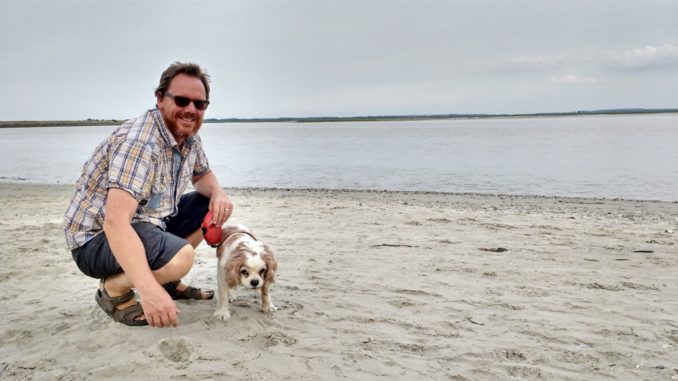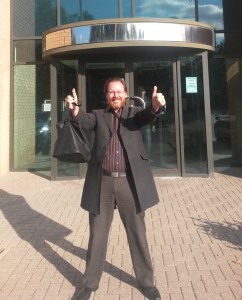 I've one more working day to go and, in theory at least, I never need work a day again. Being 45 years old, this isn't a usual situation I know, although it's becoming fairly normal to me (I've been here before…).
So. I've never quite known what I wanted to do with my life. I ended up doing Maths, Physics and Chemistry at A level as I was good at them, not because I wanted to be an engineer. I studied Physics at degree level, as I was fairly good at it (and I had the luck of having supportive parents), not because I wanted to become a scientist. I started a PhD in a Physics-related subjects (firing neutrons through big bits of metal), not because I wanted to be a researcher, but because I'd got a good degree (and got a scholarship). I started 'real work' writing technical manuals for computer parts, not because I wanted to be a technical writer, but because I'd quit my PhD and I needed a job, and again I was pretty good at technical writing.
And on and on it went, shifting around and being promoted from time to time until suddenly I was 39 years old, running multi-million pound IT projects, and all I knew was that I was doing something I really didn't want to do. I was depressed, burned out, a bit broken. But I still didn't know what I wanted to do, and until we managed to pay off our mortgage, we had to keep the monthly payments flowing anyway so it didn't seem to matter.
An answer came to us one day after the mortgage was cleared: to travel, to see how far we could get. Which is when this blog was born, over six years ago now. Two years and a sensational time later, having spent as much of our savings as we dared, I (frankly) sobbed my way back to UK soil, before Ju took the reins and steered our lives back onto a new course. I would have turned around and headed south, looking for anything which paid enough to enable me to avoid coming back. Back home meant reality, back to commuting, the 9 to 5, office politics and lots and lots of sticky red tape. Once Ju had got us settled back in a rented house, I started to get fired up, and we jointly decided to climb a mountain, to create a new, alternate reality for ourselves.
I forced myself to go back through the same doors I had walked out of two years earlier, and a further two years later we reached the peak – financial freedom. Not without problems on the way up mind you, and we'd worked a gazillion hours by the time we were done (no more than a couple with a newborn baby, perhaps). I regret the speed at which we did it, and the impact it had on Ju's mental health, but I wonder if we'd done it any slower we'd have been able to sustain the effort to do it at all? I don't know the answer, but the end result was we reached a tipping point where we'd enough passive income coming in and, coupled with a promise in ten year's time of private pension income, we didn't need to work for money again.
Frugality played a large part in all of this, as you might imagine. To get financially free in this way requires you invest around 25 times your yearly expenses. So the more you spend each year, the bigger the pot becomes that you need to fill, largely by selling your time for money. Balancing the see-saw of frugality versus fun while you build this pot is an art form, and an ever-present challenge for anyone doing it. But in the end, most of us are playing this game, just with varying timescales.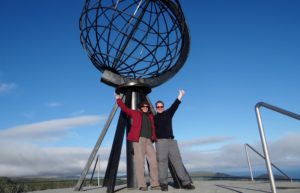 Having built this new lifestyle, we were determined to enjoy the fruits of it and headed out again in another motorhome, spending another 18 months on the road, from the Arctic to the Sahara. And in that time it became clear to me that I'd still not really worked out what I wanted to do. I had a couple of low points where I'd have happily quit the road and headed back to the UK to find some work again, for reasons I couldn't quite nail, mainly a sensation we were doing the same thing as we'd already done before, or just following a tourist merry-go-round.
This third time as I step out of the doors of the office tomorrow, having gone through the motions of handing in my badge, phone and laptop, and becoming a non-person in the eyes of the company, I have the bones of a plan in my head (which will include more motorhome travel – still in Europe for now as we've our wee Charlie dog to think of).
As I've found time and again in the past few years, books often hold answers for me, exposing me to new ideas which help me get my head around the crazy problems it seems to create for itself. This time it's Simon Sinek's Find Your Why, which basically gets you to look back over your life and pinpoint the times in your life when you felt fulfilled, elated, moved by someone or something, and to seek out themes which link these times together. From these you can further distil the themes into a purpose, something which likely formed in your head as a child or teenager, and something which drives you to feel good about what you're doing. That's the process I'm currently working my way through, although I have to admit, it's still not easy.
It's become more and more clear to me over the past couple of years of not needing to work for money, that I do need to work for other reasons. Nope, I don't plan to be spending any more time commuting or being sat in a cubicle, Dilbert-like, but I do plan to do more work, interspersed with periods of non-work. Some of the work will earn us money (I enjoy earning money doing something I believe in, even if at massively reduced rates to that the corporate jobs pay), and some will be for free.
I already know that I enjoyed (mostly – some serious editing was offloaded to Ju!) writing the second edition of Motorhome Morocco, and I'm thinking about fleshing out the Funding Freedom Mini Guide into a fully-fledged book. Other ideas are forming in my mind, such as making more of an effort on thematrixexperiment.com, and I'll pick them up as soon as I've finished the job of self-analysis in Find Your Why.
The sensation I feel at the moment is one of being on the brink of working out what the hell I want to do with this incredible gift of time, albeit I expect this to be an ongoing job. It'll be interesting (selfishly), for me to come back and read this in a couple of years, and see what I've been up to…
Cheers, Jay