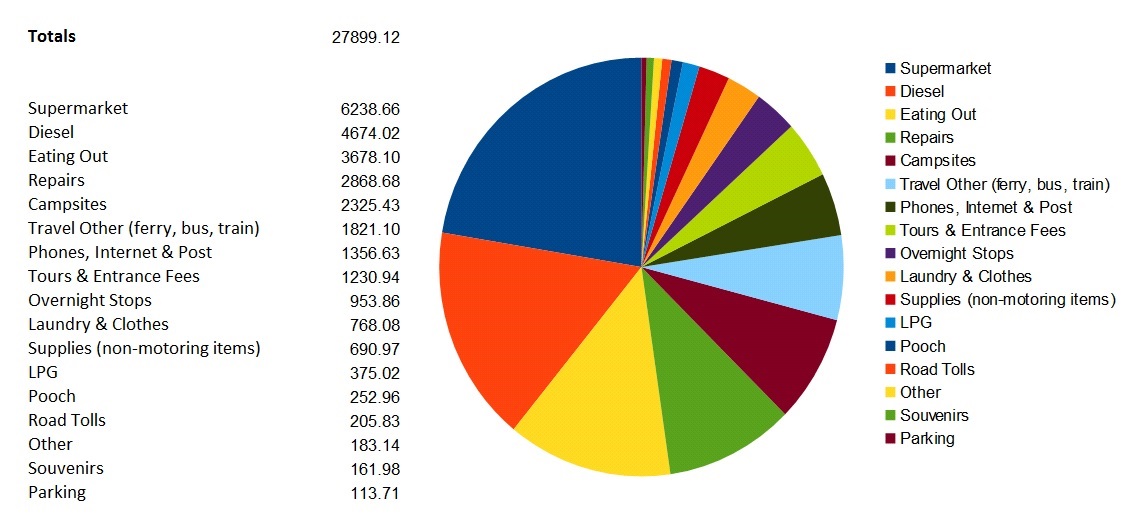 Today is our 600th day on the road, or is it our 600th night on the road? Not entirely sure, but either way we only set out with enough money to travel for a year – so how have we done it?
Many moons ago we went on a two week holiday in our old motorhome (Harvey the RV) and kept a track of everything we spent. When we got home we used those numbers to roughly work out how much a year on the road would cost, so we knew how much we would need to save. Only we didn't take into account that during those two weeks we stayed on campsites nearly every night (we stopped at a couple of France Passion places too the see what they were like). We also drove a lot of miles in those two weeks, making it down to the Black Forest in Germany before coming back, and Harvey was a petrol beastie, so our fuel costs were much higher.
Planning our tour we set ourselves a budget of £50 (€58.50) a day, plus £2,000(€2,340) for fuel a total of £20,250 (€23,700). We also budgeted £15,000 (€17,500) to buy a motorhome. Dave cost us £10,500 so we put the rest into the pot for our travels figuring we might need it for repairs to him as he was a tad older than we planned to buy. When we left the UK we had just over €30,000 in our travel pot.
I guess it's mis-calculating the campsite and fuel costs which have helped us stay on the road so long. If we stopped at a campsite every night, and we assume a campsite costs on average €18 a night, we should have spent €10,800. In reality we've only stopped on them when we have to; either due to the location (capital cities etc) or the need for laundry. So, we've only stayed on campsites for 155 nights, which has cost €2,325.43.
A further 101 nights have been spent in official aires/sostas/stellplatz which you have to pay for, costing €849.86. We've also had three nights in a hotel while Dave was having some repair work done in Narbonne, and have spent 25 nights in other places such as friends' driveways. The bit that saves us the most money is the 114 nights we've spent in free aires/sostas/stellplatz and the 202 nights we've wild/free camped.
In total over the last 600 days, we've spent €27,899.12. The pie chart below shows you what it's gone on (all costs are in Euros and where a country doesn't use Euros we've used a relevant exchange rate).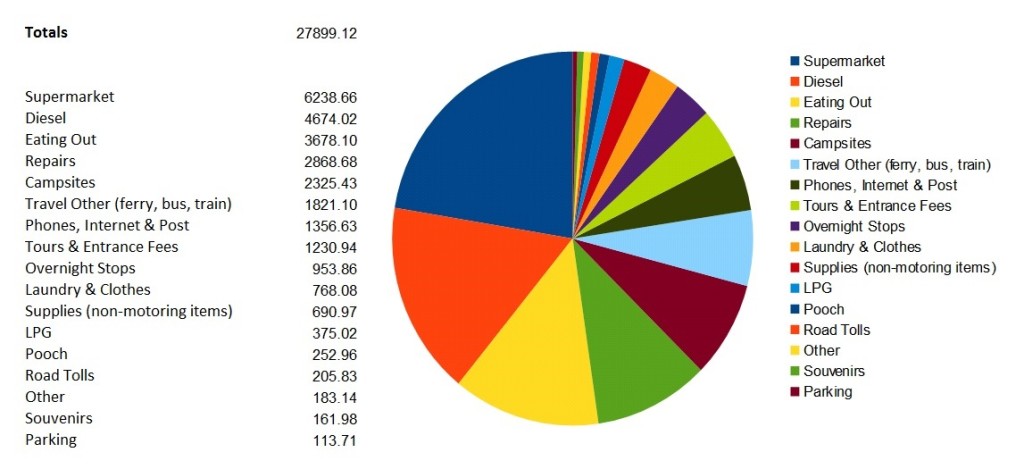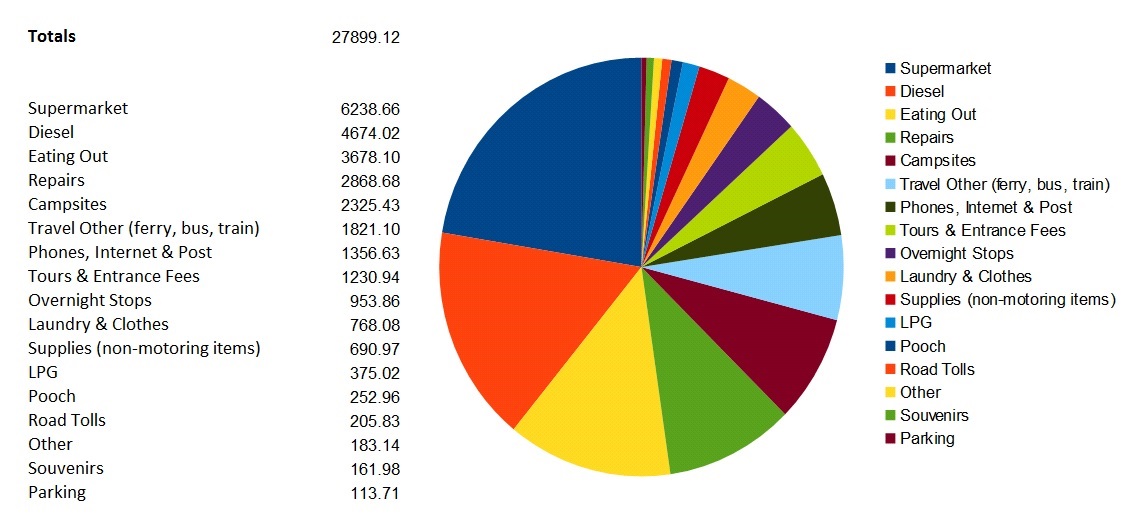 As you can see, food is our most expensive item, especially if you add our supermarket shopping with eating out – no wonder our waistlines have expanded over the last 600 days!
In addition to these costs, we had the costs we incur each year we travel, servicing, insurance etc. These aren't included in the above and are listed below in pounds, not euros!
Full service and MOT at local garage £530
Dave tax £220
Dave insurance (full time policy for 12 months) £598
Travel insurance for us £221
Along the way we have made a little money from our blog (find out more), and sales of our books earn us on average around £2 per book. So we won't be able to fund another year based on that! However, we have been renting out our home in the UK and with the money from that – which we haven't touched – we could just about squeeze another year on the road. It's a nice thought, but I think we're both about ready to go home and earn a real wage to fund another, longer adventure some point soon!
Ju x