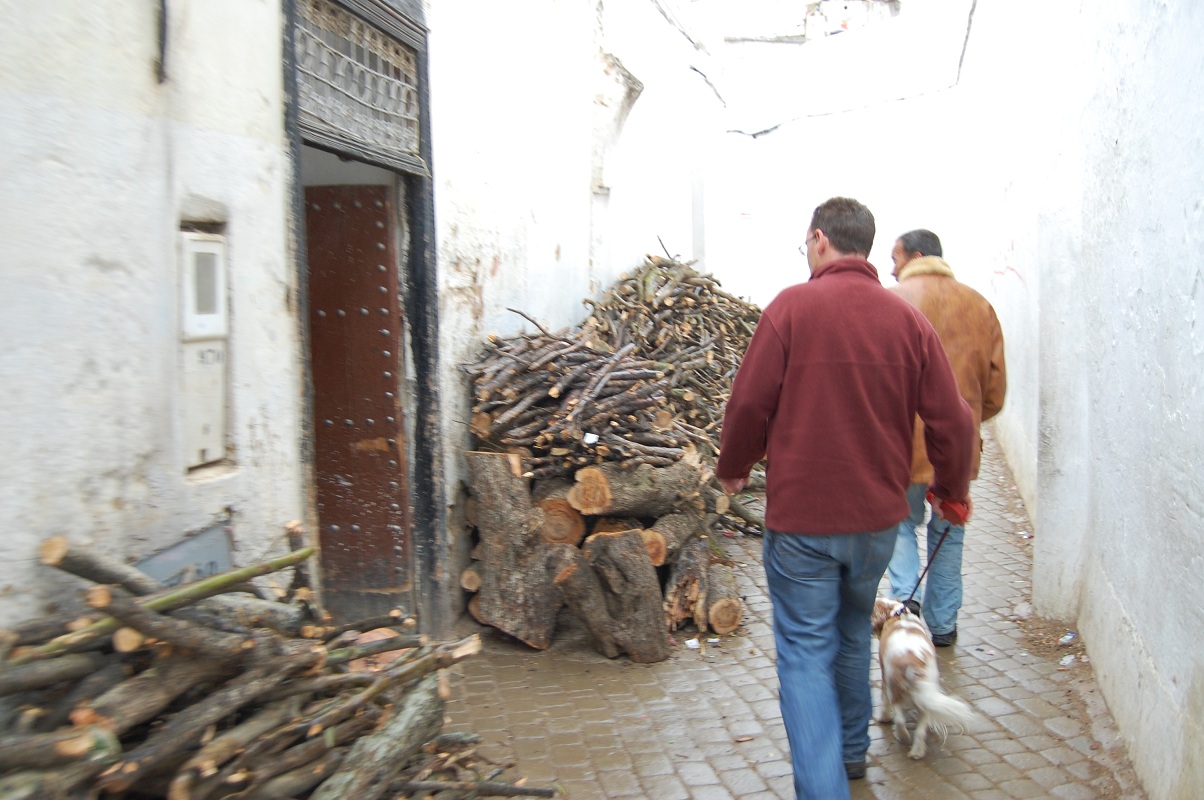 We're here, at a campsite 6km outside of Fes in northern Morroco: N33.98718 W5.01847
Weather: overcast, then thunder, then a bit of a downpour, which we had to trudge through, see below.
I admit it, I'd been eyeing up the map yesterday with a sense of foreboding. The trip from Martil to Chefchaouen had been about 60km or some such, and had been hard work. I'd arrived with a shooting pain in my left shoulder and in need of a beer. It took us about 2 hours; our friends Chris and Tina had suggested it would take between 3 and 4 hours so I think they had it worse when they did it a few days before us. Today's drive to Meknes was over 200km.
Once we got on the road, and got another look at rural Morocco, I stopped worrying as (a) the roads were pretty quiet, often straight and the traffic far less manic and (b) compared with almost everyone else we saw on or at the side of the road, we were in sheer luxury in Dave. Nevertheless, I was relieved as we came out of the Rif mountains. I'm hoping now we're out of the weird enclave where marijuana is legal, I'll get less 20-something year old blokes trying to flog me kif. I was on the verge of getting a t-shirt made up with a big leaf on it and a red cross circle across it, like on Ghostbusters.
Anyway; another fascinating day:
We've seen people using donkeys to carry pots or plastic barrels of water along the road from shared wells. There may be 3G internet access, but not much running water it seems?
We were cheered on when we used Dave's horn to gave thanks to a football match on the main road (a 60mph road) which broke up for us to pass. Good lads!
We were waved on by various smiling people from the side of the road. OK, some were after a lift but many were just working the land or waiting around. Seems foreigners are not all that common in these parts?
We gave a sorry looking youngster a Twix. He'd been hanging around the van when we pulled up for a breather and finally came over to ask for something to eat. If he'd asked for money I'd have said no, but asking for food, we were taken aback and quickly found something to give the fella.
We found ourselves in Moulay Idriss with a 'guide' called Idriss attached to us like, well, something sticky (yes, he was named the same as the town). Despite me telling him we didn't want a guide, we got one anyway. He showed us all the sights of Moulay Idriss (if you're passing, keep passing), the later part of the tour taking place in the pouring rain, before demanding 120Dh (about £10), in addition to the 20Dh I'd already given him for the parking. We gave him 50Dh. Much consternation and demands for more money. We said we had none (despite the fact he'd seen my cash when I paid for the parking). More demands for cash. In the end, we came to an agreement where he kept the 50Dh, plus two litres of wine (Mulsims are not allowed alcohol and 99% of the population is Muslim), and then he gave us back the 20Dh for another couple of boxes. We threw in a plastic bag which he'd asked for, presumably to hide the fact he'd got 3 litres of red and a cheeky box of rose? It may sound grim, but we quite enjoyed dealing with Idriss, and the tour wasn't as bad as all that.
When we finally got to Meknes, we pulled into a MacDonalds (completely out of place here, but here nevertheless) alongside a French motorhome which had just arrived. We were about to get the map out to find the campsite when he leapt out of his van to tell us it was closed, he'd been heading there too. The top man then produced his camping book and gave us the details for the site in Fes where we're now holed up, after about 6 hours of driving. He's coming later. I would give him a box of red to say thanks, but it was 55 cents and I doubt he'd touch it.
The rain's stopped, which is good as the electrical hook-up point is, well, basic and exposed, shall we say. The heater is on, Ju's wrapped up in bed with a book, and I'm about to dig out one of my remaining beers. The question is: do we try and get into the madness that is Fes tomorrow (Charlie will have to stay home alone)? Do we take the campsite owner up on his offer of a guide? We'll see how brave we feel tomorrow.
Cheers, Jay
P.S. the blog title's a reference to Monty Python's Life of Brian. Apologies if you've never seen it and consequently have no idea what I'm on about.