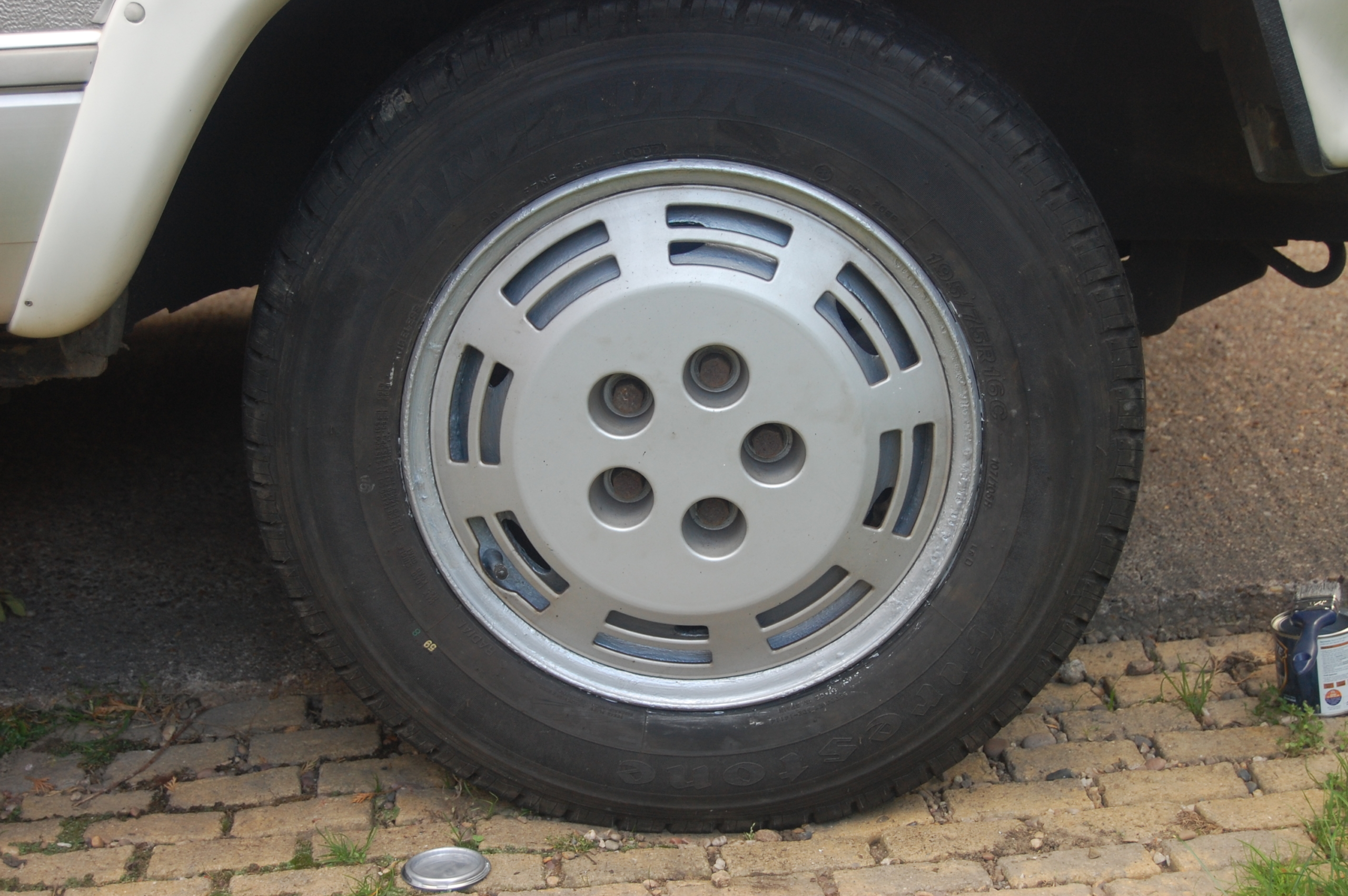 I managed to spend 5 hours today painting one wheel on the van. I wrote a post just now explaining how I managed this feat of unproductivity, but it was so dull I deleted it. Suffice to say brain kicked in a little too late in the wheel removal/trip to B&Q processes. At least I now know where the jack the van up, and what colour looks best on Hymer B544 wheels.
Other 'news':
After Ju had put me to shame getting a dental check-up prior to leaving (she's so organised), I headed up to the NHS dentist today. £17.50 and about 60 seconds later I left. My teeth, such that remain of them, are all OK.
The ADAC membership's sorted thanks to our friend Jon and his excellent contact within the organisation. Having spent a few hours today looking at rusty bits on the underside of the van, I feel very much comforted that the might of the German automotive rescue organisation is available to us in the far flung reaches of the continent.
Ju's been busy scanning in our passports and so on, to help us out if they get lost or stolen. For a bit of fun she's put a photo of Charlie in his Pet Passport too.
Finally, after two or three years of putting it off, I finally got around to varnishing the wooden door to the 'coal shed' at the back of the house.
We have a viewing arranged for the house for Thursday. The potential tenant has a couple of dogs. I baulked at this at first, then realised that our dog's had a pretty good go at scratching all the doors and generally furring the place up, so I'm warming up to it.
Norman at Essex Street Garage is working hard on getting the bushes needed for the replacement suspension mounting points. He's been in touch with Fiat, but ended up speaking to an Italian, who's promised someone from Fiat UK would call him back. No phone call so he's going to have a look at the van anyway on Friday.
Chased up the guys who are supposed to be replacing a bedroom double glazing pane which has condensation inside. They measure up about 2 weeks ago, then no word and their mobile's redirecting to voicemail. Tradesmen, harrumph.
Did some reading on UML too – a language for describing the functionality of a software application. I love computers and in my past jobs hardly ever got the time to read up on concepts which were not directly related to immediate assignments. I'm looking forward to having some time to read over the coming months, although I intend to get lots of fiction in: all work and no play makes Jason a dull boy.
Paint the other three wheels: 1 hour, tops.

Clean house: 3 hours, 2 of which will no doubt be spent trying to get the bath clean.

Read list and despair at all the remaining jobs: 1 hour.

Read more on UML: depends on whether #1 actually takes me only an hour!